Application analysis of laser in tire industry

Release time:2021.05.25

Views:423
Application analysis of laser in tire industry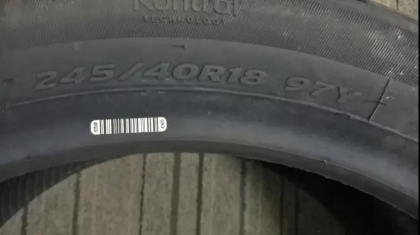 At present, the automation level of tire manufacturing industry is very high, and 3D machine vision is widely used in it. Laser is also widely used in it. At present, with the industrial upgrading and

localization requirements, many users know little about this type of laser. This paper mainly introduces the application of laser in tire manufacturing and tire forming machine.


1. code reading and character recognition
In the automatic detection, it is often necessary to read the type and number of the tire, and the 3D laser profilometer can read the characters, letters and numbers of the tire surface quickly and

accurately. In this field, lasers are particularly important
:
1) Consistency of laser line, especially relevant specifications, including output power, line width, depth of field, etc;
2) The requirement of straightness is high;
3) Because the bending of the tire edge will cause the brightness of both ends to decrease greatly, so the beam needs to be reshaped;
4) Long time working stability;
5) Stability of mechanical structure.



2. Tread measurement
The contour and surface integrity of tires directly affect the driving speed and safety of cars and trucks. Laser profile measurement system, which is composed of line laser, industrial camera and image

processing unit, is usually used in tread profile measurement. According to different application requirements, flexible regulator configuration can be used to adapt to different height difference,

specifications, etc.
By identifying tread wear, unnecessary tire replacement and accidents can be avoided. And it can provide diagnostic reference for chassis problems.
In this field, lasers are particularly important:
1) Consistency of laser line, especially relevant specifications, including output power, line width, depth of field, etc;
2) The requirement of straightness is high;
3) Because the bending of the tire edge will cause the brightness of both ends to decrease greatly, so the beam needs to be reshaped;
4) Long time working stability;
5) Stability of mechanical structure.
Han's laser tire anti-counterfeiting tracing system
Application fields: marking the surface of common tires, which can be customized according to the tire size.
Marking content: QR code, barcode, characters and other identifications;
Marking process: read the barcode of the tire itself, communicate with the server to obtain the marking content, and then convert it into one-dimensional code two-dimensional code or character,

and mark and burn the tire surface with CO2 laser;